I may or may not still have a bag to unpack.
I may or may not have fallen asleep without taking my makeup off last night.
I may or may not be obsessed with my new Keurig.
I may or may not have let Olivia sleep in her Halloween costume last night.
...
Other than to bring Olivia to school, I have zero plans to leave the house today. The fact that I even went beyond pajama pants should be impressive.
Top - Old Navy
Jeans - Old Navy
Shoes - Chucks
Scarf - My momma!
I love these pants. They're high-waisted. They're majorly flared. They remind me of a pair of bell bottoms I had when I was 11.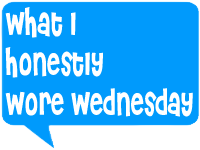 Hope Wednesday treats y'all well..